Do you feel tired when you wake up in the morning? Does your back hurt? Maybe it's simply time to change your bedding. Literie Bonnet, French bedding manufacturer since 1955, shows you how to determine the condition of your bedding.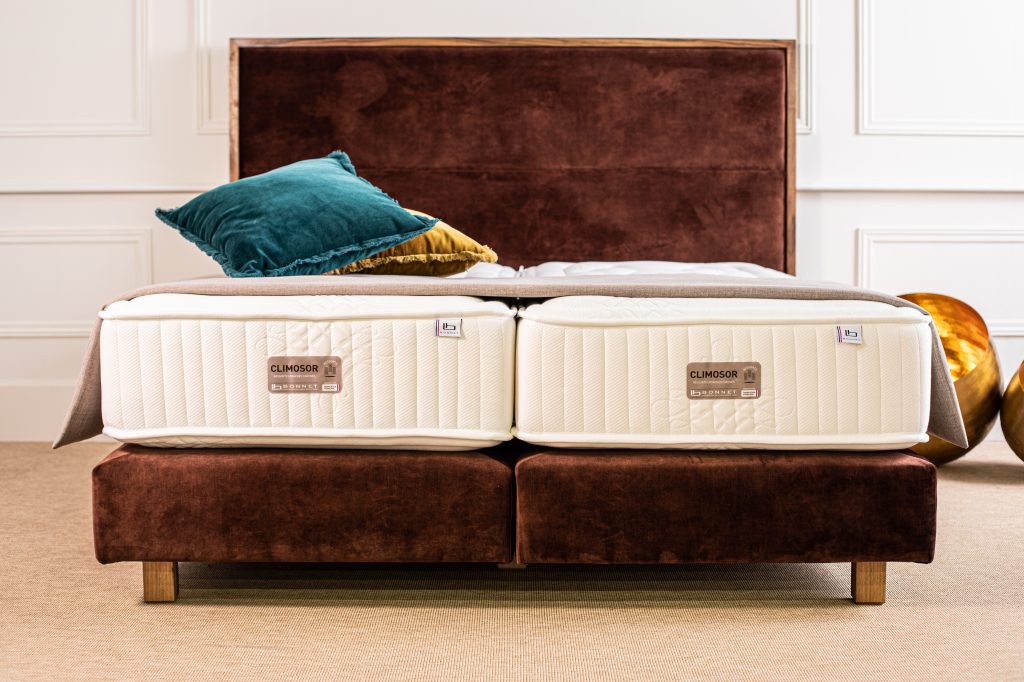 1 – When did you buy your bedding?
Specialists agree that the average lifespan of a mattress is at most 10 years. Sleeping on the same mattress for 10 years means using it for an average of 8 hours for 3,650 nights, i.e., more than 29,000 hours! We change position about 40 times a night: your mattress will have been used at least 150,000 times over its ten years.
At Literie Bonnet, we are experts in all technologies (springs, memory foam, natural latex, etc.). Each Bonnet mattress is entirely made in our workshops: our products are more elaborate, more adapted to each need or pathology, more complex but above all more robust and reliable. Your comfort will depend entirely on the type of mattress selected.
2- Do you feel cramped in your bed?
For a good night's sleep, it is essential that your bed is adapted to your morphology and your sleeping habits. The discomfort caused by a lack of space can destructure your sleep, and thus be a source of extreme fatigue.
At Literie Bonnet, we make it a point of honour to advise you and to make the mattress that suits you best, the one that best adapts to your morphology and habits, whatever your requirements. Think big!
3- Listen to your body
Waking up exhausted is the guarantee of a long and exhausting day.
Pay attention to the different reactions of your body when you get up. Do you feel aches and pains in your back or neck? It is possible that your mattress does not allow sufficient muscle relaxation. A bed that is not adapted to your needs can lead to pain or stiffness that can cause you to wake up a lot at night.
To avoid these inconveniences, we select materials according to their performance and efficiency, in order to ensure you first of all a support, but especially a surface comfort adapted to your morphology and possible pathologies.
4- Do your partner's movements wake you up?
Your partner moves during the night, and you wake up immediately? This may be a sign that the mattress is too old (a trough can form over the years) or not adapted properly.
A quality mattress must, in addition to support and comfort, ensure that each sleeper can sleep independently. Literie Bonnet makes bold and personalized combinations of materials to provide the perfect independence that is essential for a good night's sleep.
Come and test our mattress models in our various shops; our advisors will be able to help you make your choice.
5- Does your bed squeak?
If so, it's time to invest in new bedding.
There is nothing more annoying for you or your partner than a bed that creaks at the slightest movement of the body. A tired slatted base will cause your mattress to wear out. Literie Bonnet offers you a wide range of bed bases that will guarantee you a very quiet night's sleep.
6- Do you suffer from allergies?
Do you sneeze? Do you have allergies or are they getting worse? Over the years, dust and dust mites accumulate in the mattress and in the base. To prevent them from becoming allergen traps, clean them regularly with a hoover, use suitable bedding protectors and renew your bedding as it ages. Literie Bonnet offers a wide range of mattress protectors: anti-allergic, 100% natural, waterproof, anti-bedbug, etc.
In conclusion, sleeping on worn-out bedding is detrimental to your sleep and your health. Remember to change your bedding as soon as you feel the need. The quality of your sleep depends on it.
At Literie Bonnet, each product is the answer to a specific need, a specific use, and specific requirements. We listen to you. Our mattresses and bed bases have been made by our master craftsmen with the greatest care since 1955 and our advisors are at your disposal in our customized bedding shops.