The best solutions for saving space in the bedroom
The lack of space in big cities, the lack of storage space for your shoes or suitcases, the lack of space for friends who arrive unexpectedly, the lack of space forces us to find solutions to optimize our sleeping space. At Literie Bonnet, a bedding manufacturer since 1955, we create made-to-measure beds and bed bases ideal for small spaces.
The lack of space has become a real headache, but many solutions now exist to optimize the space you have, without having to push the walls. Proper storage and a judicious arrangement of furniture and objects allow you to make the most of the space in your room. We don't think enough about exploiting the potential of our walls, for example to attach shelves and thus store things that we don't use or don't use much, such as suitcases or duvets.
Here are the solutions thought up by Bonnet Bedding to save a maximum of space:
The box bed
Your bedroom is small, and you don't have room for shelves or dressing rooms to store your things? At Literie Bonnet, we have the perfect solution to optimize the space in your bedroom: our box bed.

Ideal for storing your travel bags, duvets and pillows, the bed base opens and closes thanks to a system of hydraulic jacks.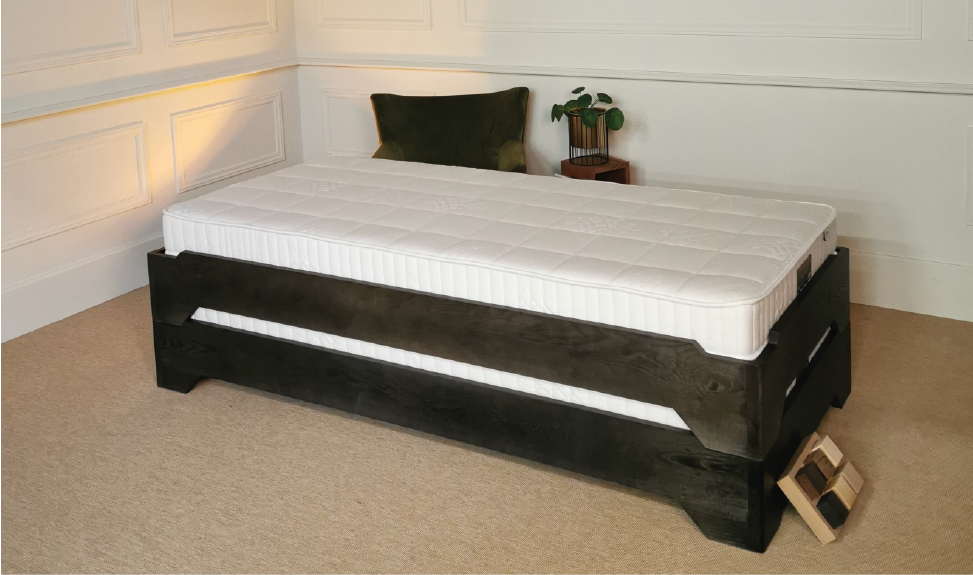 A stackable extra bed
Another solution to receive your friends, children or grandchildren in your second home for a weekend: our extra bed.
More comfortable and practical than a simple convertible, you have two real beds in the blink of an eye. These stackable walnut bedsteads will combine practicality and aesthetics.

Storage space under the bed
Just as practical as our box bed, drawers hidden under the bed offer additional storage space without occupying the last available square meters in your bedroom.
A headboard with storage
This headboard also includes storage compartments in which you can place books or even clothes. This practical and discreet arrangement can be used to complement a wardrobe or bookcase
Visit us in our bedding shops in Besançon or Paris. We will help you find the ideal space-saving solution for your bedroom
Our selection of mattresses and bases